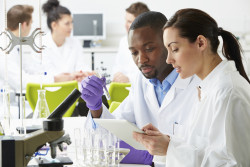 The Current Good Manufacturing Practices training course discusses a basic under-standing of cGMP. Using web based training, the course provides a breakdown of the current Good Manufacturing practice requirements from the FDA and includes subpart detail. Additionally, this training gives a better understanding of the subparts located within 21 CFR Parts 210 & 211.
cGMP Training is done through epath, the PathWise online learning management system. ePath is for targeted knowledge-based learning. Our web based training focuses on terms, definitions, regulations and expectations.

PathWise cGMP training ensures course attendees can:
Explain and define GMP and cGMP.
Discuss the role of the FDA in the cGMP process.
Describe the types of inspections and potential outcomes for cGMP.
Understand and apply the information provided to their everyday roles and responsibilities.
These are the benefits of the cGMP web based training:
Optimize productivity and training time.
Flexible mobile learning using a desktop, laptop, tablet or mobile device.
Fulfill new hire and annual FDA training requirements.
cGMP training is appropriate for all employees involved in the Pharmaceutical industry.
The cGMP training will take 1-2 hours.
Consistent training across the organization is key to a successful organization.
For group and corporate rates for our Web Based Training, please fill out the form below, and a PathWise representative will be in touch shortly!
* These fields are required.
Looking to increase your individual knowledge about cGMP?
ePath Log In
Already have access to ePath? Log in here to continue your online learning experience!